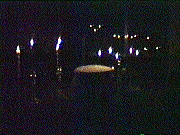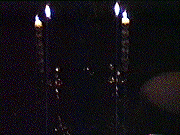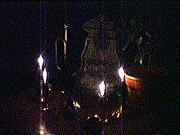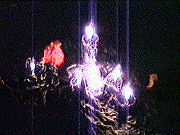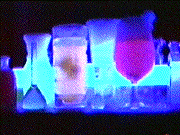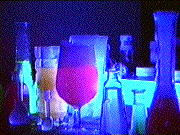 Please forgive the quality...the above were captured from video...
Clockwise from top left: the table decorations with the bubbling cauldron...skull candles...the bubbling gargoyle fountain...Noah's wax candle sculpture...and two shots of our Mad Scientist display with dry ice, fluorescent liquid and black light...
...but these should be much better!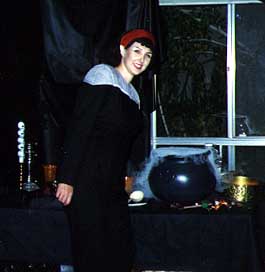 Here I am as Commander T'Leo, posing next to my bubbling Witches' Brew...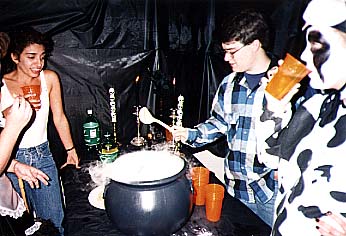 Well, do you think people were having fun yet? You can see the bubbling cauldron with the witches' brew a little better here...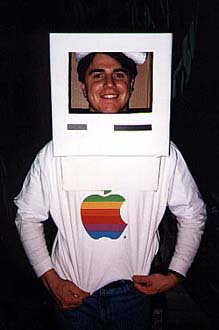 Look! It's MacDave!
Can you tell that Dave Taubler is an Apple Macintosh enthusiast?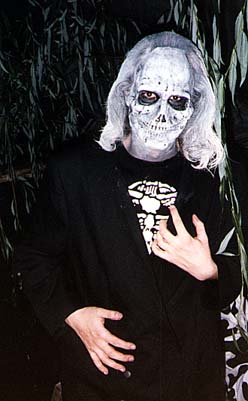 Oooh...Scary...
Believe it or not, but this is Noah...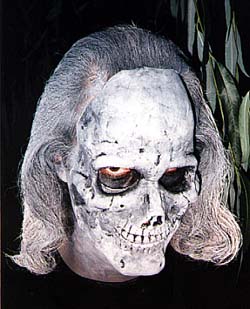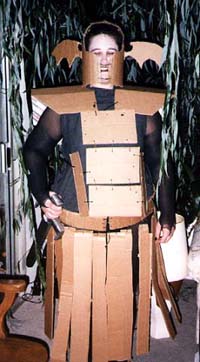 Well, Amy was voted Best Costume but everyone had a different name for her..."The Knight Who Says Ni" was one of the most popular votes, but she said she was supposed to be a MST3K movie character whose helmet visor always went "Squeak"...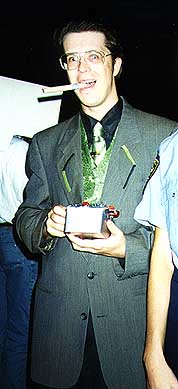 Aha! Finally a photo of Robert! Here he is as Al from Quantum Leap, complete with the box that actually made sounds (that he sampled off the TV)...That's the kind of dedication I like to see in a Halloween costume!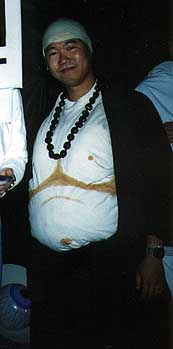 Here is Louie showing us his Buddha nature...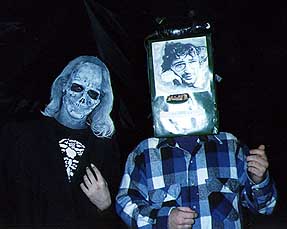 Scary Noah with Jeff the I-still-have-no-idea-what-his-costume-was...It was a cardboard box that actually rotated around his head, with different collages on each side, but I never did get the joke...I guess I'm just dense... :)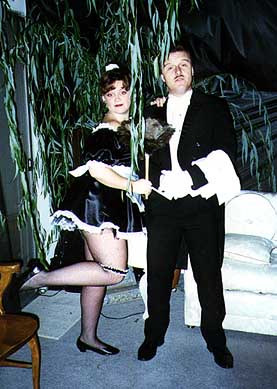 Here are Tracia the French Maid and Doug the Butler...you know how hard it is to find good help these days...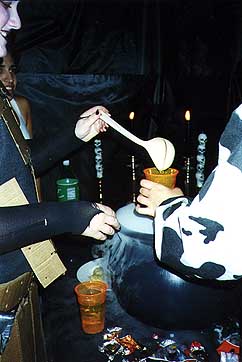 Ooh...an action shot of pouring the witches' brew!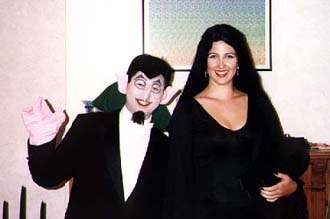 Louie invited me to another party in San Francisco on the actual night of Halloween, so we decided to go as good costume repeats of years before...Louie is the Count from Sesame Street ("One...two...three network outages! Ha, ha, ha!"), and I am a less pale Morticia carrying a miniature coffin...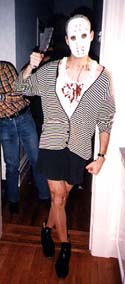 That San Francisco party was the night I met one of my future bosses at Netcom, Jay Adelson...I definitely didn't recognize him when I saw him at work! I don't think he could recognize me either, since I had been wearing that black wig and all... :)

---
All text, photographs, illustrations, and other original content are copyright © 1994-2021 by Britta M. Peterson, Eerie Elegance and Britta Blvd Publishing. All rights reserved, which includes the right to reproduce any portions thereof in any form whatsoever except as provided by U.S. Copyright Law. For information address Britta Blvd Publishing.


to the Halloween recipes...

to the Halloween index...

email Britta