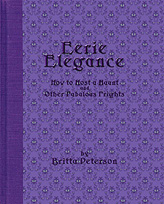 Eerie Elegance: How to Host a Haunt and Other Fabulous Frights is the invaluable reference book that will transcend your Halloween party beyond the paranormal to the extraordinary! Halloween enthusiasts world-wide have been downloading Britta Blvd's home-spun recipes for over a decade, and in that time author Britta Peterson has been awing party-goers with her jaw-dropping environments. Now all these time-tested techniques are at your fingertips, finessed to match every budget and time frame. From the quick and easy to the elaborate and challenging and everything in between, you too can inject your party with a little Eerie Elegance!




Buy an autographed copy of the book Eerie Elegance for $19.95!
(If you buy physical items and downloads in the same PayPal shopping cart, downloads count in the
total shipping count, which might bump you up to the next shipping price. You can avoid this by
purchasing downloads in separate transactions from physical items. Thanks!)


---
Listen to the Eerie Elegance radio interview with Shannon Medaglia on Edmonton, Alberta, Canada's 104.9 Easy Rock - October 31st, 2009

---
Eerie Elegance:
How to Host a Haunt and Other Fabulous Frights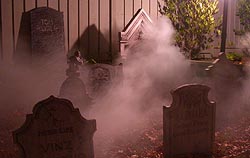 Is Halloween your favorite holiday? Love to set a spooky mood and tantalize your guests with delectable delicacies? Want your friends to be talking about your Halloween party for years to come?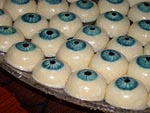 Eerie Elegance is the invaluable reference book that will transcend your Halloween party beyond the paranormal to the extraordinary! Its full-color photos and step-by-step instructions will:


Get you inspired with creative ways to transform your house into a haunt


Guide even inexperienced crafters through fun and frugal decor projects that will have your guests marveling at your creativity


Provide one-of-a-kind recipes to entice...or revolt...your friends


Show numerous easy and adaptable displays for your mesmerizing decor and creepy cuisine


List themed games and activities to bring ghostly glee to your party


Plus provide tips for organizing and planning your bash so you can enjoy the festivities, and even ways to safely store your masterpieces so you can do it again next year!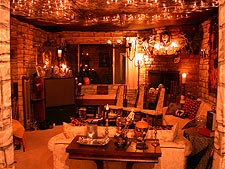 Halloween enthusiasts world-wide have been downloading home-spun recipes from Britta, Webmistress of the Dark for over a decade, and in that time author Britta Peterson has been awing party-goers with her jaw-dropping environments. Now all these time-tested techniques are at your fingertips, finessed to match every budget and time frame. From the quick and easy to the elaborate and challenging and everything in between, you too can inject your party with a little Eerie Elegance!


Enhance your home haunt with unique and inexpensive ideas that will
have your guests dying to come back!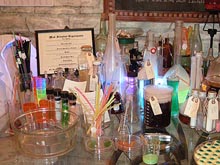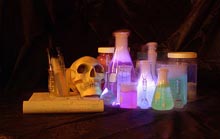 Order
Eerie Elegance
today!
Questions & inquiries? Click here